Contributions
Contributions are made conveniently through payroll deduction, and your employer also makes contributions on your behalf. By working together, our goal is to help you achieve sufficient income in retirement.


You make pretax contributions to the pension fund. The cost of the pension component is shared 50/50 between you and your employer. Both you and your employer will contribute 6.2% of your wages.* If you leave public school employment, your contributions can be returned to you or can remain on account should you later return.
Note: Pension Plus 2 has been designed to ensure that sufficient funds are invested early in your career to support the benefit you will receive after age 60. If market fluctuations cause that benefit to be at risk (i.e., underfunded) you and your employer will share the cost of restoring the plan (50/50) to fully funded status over a 10-year period. Contributions for this situation are not refundable.
*This rate is subject to change each year.
The Power of the Match
Consider Mary and Mark:
They are both 25 years old and make a salary of $30,000 per year. They both contribute 2 percent of their pay to their retirement investment account each month. However, only Mary's employer provides a matching contribution of 50 percent of her contribution (up to 1 percent of her salary), so a total of 3 percent of her gross wages automatically goes into her account. Mark's employer does not provide this benefit. Look at the difference in their account values at age 60.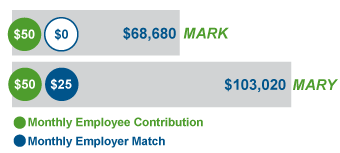 In this case, the employer match is worth over $34,340 in retirement account value.



Starting your first day on the job, you automatically began contributing 4 percent of your paycheck to your retirement investment account, which is made up of your Personal Healthcare Fund and your retirement savings. This automatic enrollment earns you your full employer match.
For every dollar you contribute, up to 2 percent of your wages, you will receive an equal matching contribution to your account from your employer. This is directed to your Personal Healthcare Fund. (Go to Retiree Healthcare for more information about the Personal Healthcare Fund.) For the next 2 percent of your wages that you contribute, your employer's matching contribution will be half of what you contributed, up to 1 percent of your wages. This, plus any additional contributions you make, is directed to your retirement savings.
Your contributions to your retirement investment account are invested in a 457 plan, and your employer's contributions are invested in a 401(k) plan.
With matching, your automatic enrollment contribution plus the employer match means a total of 7 percent of your pay is being invested in your Savings Component. You should consider increasing your contributions if you can; saving as much as you can as long as you can will help ensure a financially secure retirement.
Vesting
You are vested when you have sufficient years of service to qualify for a future benefit (such as pensions and investment account balances that are based on employer contributions) even if you terminate employment.

You are vested when you have at least 10 years of service.


Your contributions to your retirement investment account and any earnings on those contributions are always yours, regardless of your years of service. You become 50 percent vested in your employer's contributions after 2 years of service, 75 percent vested after 3 years of service, and 100 percent vested after 4 years of service.